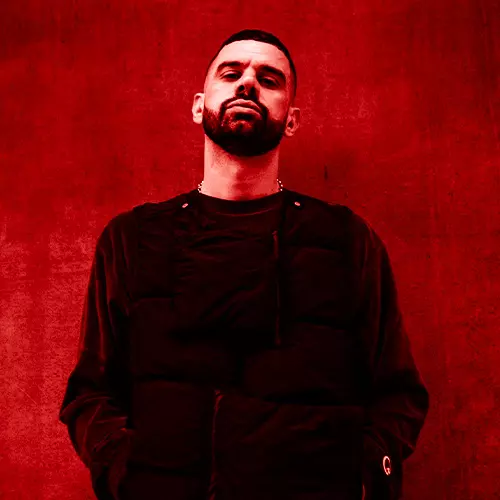 Mella Dee
Mella Dee, a producer defined by a willingness to experiment with a wide range of sounds, concepts and landscapes, has never limited himself in his approach to making music.
Influenced by the likes of Underground Resistance, Floorplan and Jeff Mills, London based Ryan Aitchison is masterfully finding his sound; creating a unique blend of driving techno by fusing elements of house with essences of hardcore and jungle. Releases on DEXT Recordings, Sweden based Omena Records and Ben Sim's Hardgroove label helped gain huge support from the likes of Daniel Avery, Laurent Garnier, The Blessed Madonna, Bicep, Radio Slave, Tijana T, Spencer Parker and Len Faki.
Mella Dee's early musical influences originated from the sounds coming out of warehouses in and around his stomping ground. This soon developed into a love of the burgeoning scene and audio palette from warehouse parties worldwide; hardcore, house, bleeps, techno and everything in between. With a respectful nod to the impact this had on him, Aitchison is striving to create his own take on Warehouse Music with his aptly titled record label.
The breakthrough success of his 'Techno Disco Tool' reached number 1 in BBC Radio 1's Dance Music chart, as well as Nick Grimshaw's 'Tune of The Week' and went on to be chosen as one of the 'Tracks of the Decade' by Annie Mac and Pete Tong. His Warehouse Music imprint won the 'Best Breakthrough Label' award at the DJ Mag awards and he was also named one of Mixmag's 'Stars of the year', thus, Mella Dee has rapidly become one of the most sought after names in dance music.
Since then Mella Dee has delivered his debut Essential Mix for the legendary BBC Radio 1 series, a debut Boiler Room set to rapturous acclaim, toured North America for the first time -including Chicago's legendary Smart Bar- and joined the elusive Circoloco family for a summer of shows at DC10 and their momentous festival in Thailand. Autumn 2019 saw Warehouse Music's debut European tour, taking over illustrious venues including Razzmatazz, Badaboum, Motion Bristol and the infamous Doncaster Warehouse with line-ups curated by Mella Dee.